Golfing at summit height

Whether after breakfast, after skiing in the Gurgl ski area or before dinner - at the Ski & Wellness Resort Hotel Riml you can play golf whenever you feel like it. Let off steam on the golf simulator, discover our putting green or book a golf lesson with golf pro Christopher Lutz. The largest indoor golf facility in Europe makes this possible at an altitude of over 2,200 meters!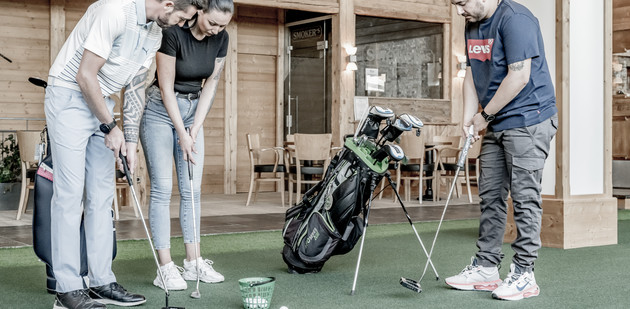 Whether beginner or professional - everyone is welcome at the indoor golf park at Hotel Riml in Hochgurgl! Get advice from an expert golf instructor and take up the challenge. 3 different training options not only make it easier to get started in golf - experienced golfers and golf professionals in particular have been relying on this technology for years! By means of Dual Radar and Highspeed Cameras your swing will be analyzed in detail and your handicap will be improved. Chipping, putting, driving and pitching - indoor golf has never been so real!
If this training is not enough of a challenge for you, you can let off steam on the most beautiful golf courses in the world. While it's snowing outside, tee up your golf ball at Hawaii's Kapalua Bay or watch your ball disappear into one of the deep bunkers at Pebble Beach.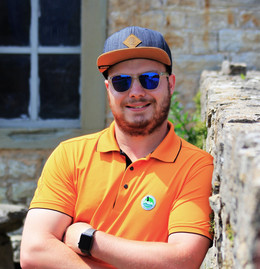 Did you know?

 Did you know that there are over 35,000 golf courses worldwide, we use 124-130 muscles in a golf swing, and you burn up to 1700 calories in a single round of golf?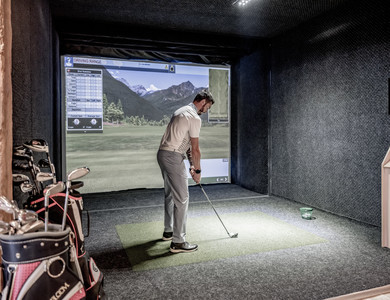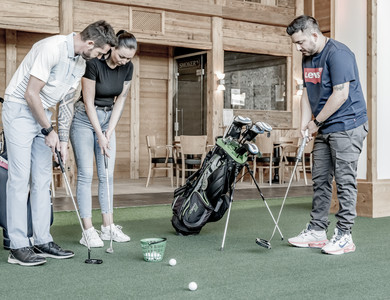 Information:
THE PERFECT TEE OFF
At the golf simulators in Hotel Riml, golf lessons and playing courses are possible at any time, even in winter. Our modern golf simulators take you to the most beautiful
golf courses in the world and analyze your tee shots and movements in detail. Whether individual training or a golf trial course, everyone will find the right training offer here.

GOLF SIMULATOR INCL. RENTAL
CLUBS & BALLS (WITHOUT PRO)
1/2 hour € 19
1 hour € 35
10 hours special price € 280

TRIAL GOLF LESSONS
• Introduction to the basics with a PGA Golf Professional
• Practice teeing-off and putting
• Duration:1,5 hours
• Price includes rental clubs and balls, teaching aids and golfsimulator
2 − 4 persons per person € 20




ADVANCE COURSE
• Intensive technique workout
• Practice with all kind of clubs
• Short game
• Play on the course
• Duration: 2 days / 1,5 hours
• Price includes rental clubs and balls, teaching aids and golfsimulator
2 − 4 persons per person € 40

INDIVIDUAL LESSONS
• Individualised teaching
• Long and short game
• Play on the course
• Price includes rental clubs and balls, teaching aids and golfsimulator
1 hour € 45
CONTACT
SKI- & WELLNESSRESORT HOTEL RIML
Hochgurgler Straße 16 ∙ 6456 Hochgurgl
Telefon +43 (0) 52 56 62 61
https://www.hotel-riml.com/en/indoor-golf-fitness/simulators-golf-lessons/