Obergurgl - A diamond in the alps
If you are aiming high for your next ski vacation, Obergurgl/Hochgurgl is the place to go. Located at over 3,000 meters above sea level, the "pinnacle of ski resorts" offers plenty of options to enjoy winter.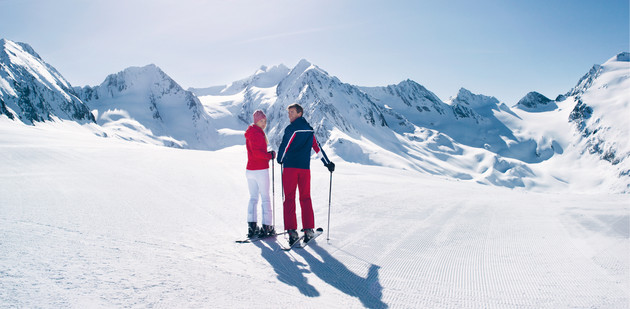 The resort boasts 110+ kilometers of pure skiing and riding fun for all experience levels, modern, safe and quick ski lifts that make lines virtually non-existent, and some of the Alps' most breathtaking views. The best place to soak up the majestic scenery is the panorama gondola that links Obergurgl with Hochgurgl. 
Facts
Elevation: 1,800 to 3,080 m
110 kilometers of slopes
"Top Quality Skiing": motto and mission of one of the Alps' top ski resorts

24 modern ski lifts – capacity of 40,000 persons per hour
Top Mountain Star: architectural and culinary highlights 3080 m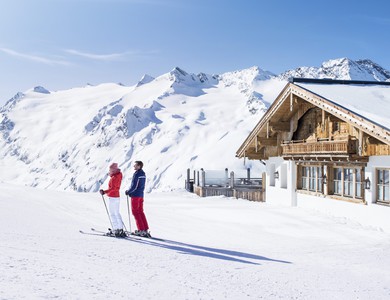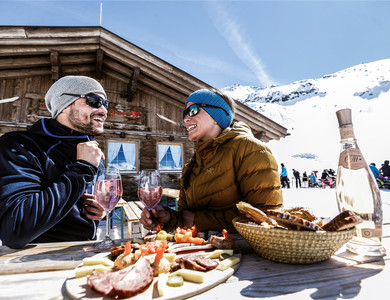 Skiing from the "hotel's terrace"
At Obergurgl-Hochgurgl, "ski-in, ski-out" means clicking into your skis and heading down the slope from your hotel's terrace. And whether you prefer skiing or snowboarding, freshly laid corduroy or powder: in Obergurgl-Hochgurgl you have your pick of great high-alpine slopes for all experience levels. 

Food an drink in Obergurgl
And since cruising down the mountain works up an appetite, the resort boasts several friendly on-mountain inns and restaurants that serve tasty food and refreshing beverages. And if you want to cap off the day's adventure with a drink, there are many lively après-ski bars where you can celebrate your great day on the slopes. Sounds good? Obergurgl-Hochgurgl is a diamond with many facets! 
Hohe Mut Alm // 2.670 Meter
This service restaurant offers Tyrolean mountain gastronomy par excellence. Comfortable Tyrolean style hut with sun terrace, cosy snuggery, wine cellar and bar with fireplace.
Nederhütte // 2.104 Meter
Waiter-service ski hut with big sun terrace. Monday, Tuesday, Thursday and Friday from 4.00 pm après ski party with live music (up to and including 15 December on Sat instead of Thursday)
Schönwieshütte // 2.270 Meter
Comfortable ski and mountain hut with large sunbathing terrace where Tyrolean specialities are served. In quiet and peaceful location at the entrance to the Rotmoostal valley. Open from Monday to Saturday.
David's Skihütte  // 2.004 Meter
Very homey ski and mountain hut with excellent service. Huge sunbathing terrace. Hut evenings with live music every Mon, Wed and Thu. With fondue, David's BBQ specialities or roast pork shanks.