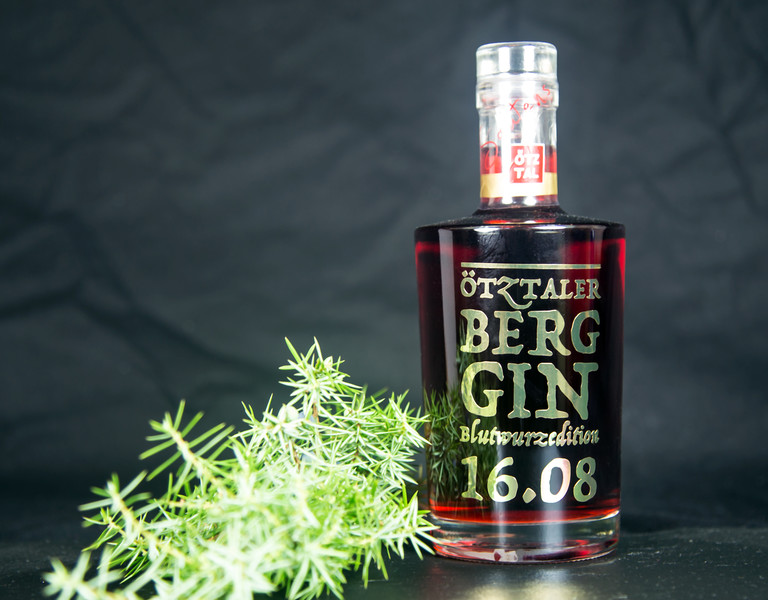 ÖTZTAL IN A BOTTLE
Tirol is not exactly known as a land of gin, but this is about to change thanks to the Mair family in Sautens who are proud to bring the craft of gin making to
their home.
"Only the best is good enough!" is the motto of the family
who is celebrating their 100-year old tradition of distilling.
"We use only the finest ingredients to make our gin.
You can really taste the difference. You can taste our passion",
explains Helmut Mair. The family has been making distilled spirits since 1920 when they were granted distilling rights by Empress Maria Theresia. Continuing this proud family tradition, Mr. Maier carried it into the next generation together with his wife Gabi.

Today it is two generations working together: father and daughter, both sommeliers with an ardent passion for
gin. "We wanted to create something that has its roots in our beautiful mountains. Our gin truly captures the essence
and beauty of Ötztal", Helmut says proudly. Their gin is a blend of 16 local herbs and botanicals, including
masterwort, tormential, juniper, pine, elderberry and gentian to name just a few. After eight failed attempts,
Helmut and daughter Nina finally settled on a product they are proud of: the Ötztal Mountain Gin 16.08, which
was awarded 88 points by Falstaff. "16.08 is the birthdate of my granddaughter Hannah", Helmut explains the
gin's name with a laugh.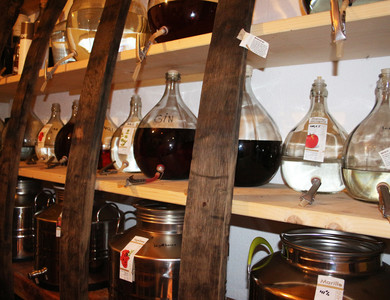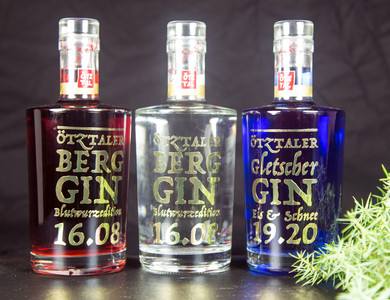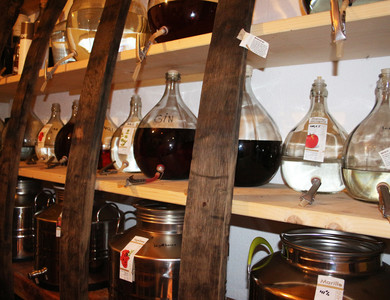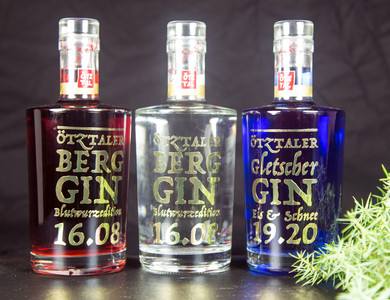 ÖTZTAL IN A BOTTLE

Helmut and Nina happily spend hours next to their distiller, tasting and smelling their gin during the distillation
run. Through trial and error, research and experimentation the father and daughter duo crafted their Glacier
Gin "Ice & Snow 19.20." Created for their 100th anniversary in 2020, each batch contains 19 ingredients. The
numbers also happen to refer to Helmut's birthday. The gin is the Maier family's tribute to the Ötztal's glaciers.
"Just like glaciers change over time, our gin changes", explains Helmut. And what he means by that is in fact a
nice little party trick that adds a touch of theatrics to his gin serves: At first the gin appears blue when poured.
Add a few drops of tonic and the drink changes its color and turns a dark pink reminiscent of the sun setting over
Ötztal's glaciers.
The Maier's gin is vailable at select establishments across Ötztal and – of course – at Hotel Riml in Hochgurgl.

Edeldestillerie Mair

Dorfstraße 48, 6432 Sautens
Tel. +43 (0) 660 5694142
www.edeldestillerie-mair.at


Opening hours: Monday - Saturday: 8 - 12 am