A BICYCLE AT
3,OOO METERS
ABOVE SEA LEVEL

There are plenty of exciting old tales and legends about Ötztal. But there are also some modern-day stories that amaze and astonish. One of them is the
account of the mysterious bicycle that was found on a glacier at 3,000 meters above sea level. Ötztaler Heimatmuseum has the story.

It is the job of cultural scientist Dr. Edith Hessenberger,
director of Ötztaler Museen GmbH since May 2018,
to preserve and carry on the history of the Ötztal. In her
mission to do so, she developed a new concept for the
museum in which the object that tells the story.
In the summer of 2018, an incredible story found its way to Ötztaler Heimatmuseum via Facebook: two sports
scientists had discovered an antique bicycle high up on Rotmoosferner, a 3,000-meter high glacier. Suspecting
that this was a significant discovery, Mrs. Hessenberger climbed the glacier herself to retrieve the rusty bike.
Theories as to the origins of this bicycle were running wild and included everything from the contrabanding
goods to the transportation of explosive and weapons, from escape to murder. The find was followed by extensive
historical research, and an interdisciplinary team of researchers decided to use the bicycle as means to shine
a light on the exciting events that were taking place along the main alpine ridge in the past.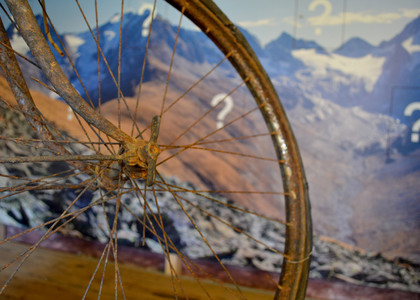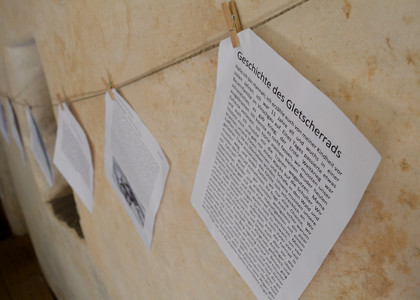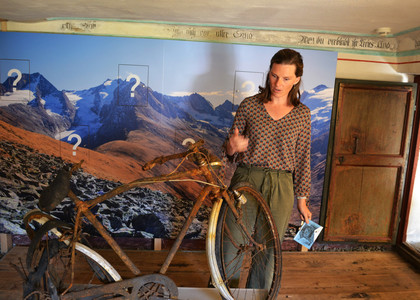 How did the bike get there?

Was it left behind by soldiers fleeing from their enemies? Was it an early day "mountain
biker"? Bootleggers who smuggled tobacco, sugar and the like? The glacier bike gave rise to all kinds of
theories and speculations. It is an object that has plent of stories to tell. But what is the real story behind the bike? "There is no "true" story", says Edith. "The most likely scenario is that a foreigner – probably a refugee –climbed the glacier with a bike in the hope of riding it down on the other side. Once at the top he realized that you can't just bike down a glacier. So he ditched the bike and continued on foot." Fact is that we will never know the true story of the bicycle that is on display at the Ötztaler Heimatmuseum.

Heimatmuseum Ötztal

Lehn 24, A- 6444 Längenfeld
Tel. +43 (0) 664 910 23 21
www.oetztalermuseen.at
Öffnungszeiten nur in den
Sommermonaten