Protect your Noggin'
Safety comes first on snowy slopes! Not only are helmets warm and comfortable to wear while skiing and snowboarding, they can prevent head injuries and even save your life. Intersport sales expert Manuel Etzelsberger knows how to choose the best ski helmet.
Michael Mustermann is an Intersport sales expert with a passion for safety equipment for skiers and snowboarders. "The most important consideration when purchasing a helmet is the fit. Shake your head from side to side. If the helmet shifts, try a smaller size", explains Michael Mustermann. Air vents are a good optional feature: "Vents bring warm and sweaty air out and cool air in. Vents literally help you keep a cool head."
My tipp

Shake your head from side to side to test the fit of the helmet.
"Goggles are another essential piece of ski and snowboard equipment. Goggles protect your eyes from snow, wind and sun, and help with visibility."  Always make sure that your goggles work with your helmet!  The third piece of safety equipment is the back protector. Spine protectors can protect your back from hard hits on ice or packed snow, and they can be your best friend if you are riding in the park or in steep and treacherous backcountry terrain.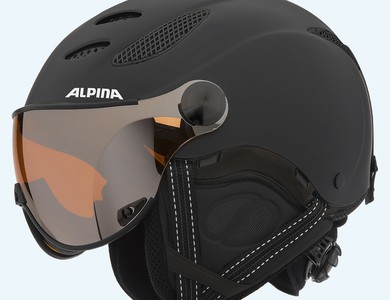 If you want to talk to Manuel for personal assistance, visit our Intersport Riml store in Kressbrunnen. The store has all the equipment you need for a fun and safe day on the mountain. 
Die Shops von Riml Sports

Riml Sports Hochgurgl
Hochgurglerstraße 16, 6456 Hochgurgl
0043 50 311 300

Riml Sports Pirchhütt
Gurglerstraße 121, 6456 Obergurgl
0043 50 311 500

Riml Sports Kressbrunnen
Kressbrunnenweg 6a, 6456 Obergurgl
0043 50 311 900
Riml Sports Obergurgl Zentrum
Piccardweg 5, 6456 Obergurgl
0043 50 311 100

Riml Sports Längenfeld
Hauptstraße 47, 6444 Längenfeld
0043 50 311 400

Outlet Ötz
Hauptstraße 49, 6433 Ötz
0043 50 311 800

Riml Sports Telfs
Michael-Seber-Straße, 6410 Telfs
0043 50 311 200