A place by the sun: Telfs
Blue skies and a gigantic adventure playground for outdoor enthusiasts: located on a sunny plateau in Tirol, Telfs offers more to do than you can possible fit into one vacation.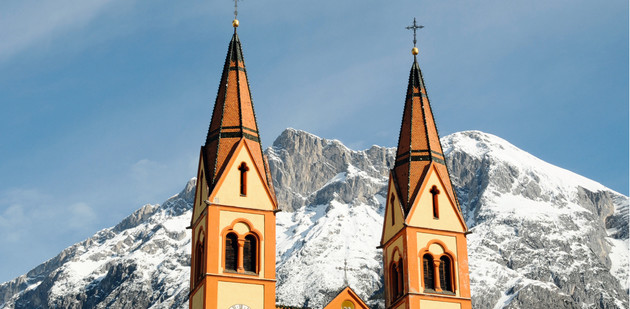 Facts

Elevation 634 m
Golfplatz Mieminger Plateau at 885 meters above sea level
Close proximity to the ski areas of Seefeld Rosshütte, Kühtai and Hochoetz
2000 hours of sunshine per year

Modern sports center with gym, bowling lanes, tennis courts, squash courts, and ice rink
New in 2016: climbing gym with a 1,300-square meter climbing surface
Sommer and winter fun in Telfs
The charming alpine town takes pride in being a place for all seasons, where there is fun for everyone. Winter charms with snowy landscapes, crackling fireplaces and the scent of mulled wine; during the summer months, visitors come here to enjoy the beauty of high alpine valleys, to hike in the mountains, to bike or to enjoy golf on some of the many wonderful courses that exist here.
The best place for outdoor enthusiast
The greater Telfs regions has plenty to offer for the outdoor enthusiast. In the winter crystal-clear air, stunning views and the unique alpine landscape make for great Nordic skiing. Those looking for a more leisurely activity will fi nd winter walks to their liking, where they can delight in snowy forests, glittering icicles and hidden nature treasures. In the summer beautiful trails and pastureland paths crisscross the region, taking you to scenic spots and natural wonders.
Skiing areas near Telfs
Telfs also caters to alpine skiers and snowboarders: the nearby ski areas of Seefeld, Hochoetz and Kühtai offer great terrain for all skill levels and views that make you want to come back. Ice skaters get a chance to show off their moves at Telfs' Ice Hall, one of Tirol's best ice sports facilities.
Golfing and cycling in Telfs
Guests who enjoy golf will have a great time at the Mieminger Plateau Golf Park. Beautiful rolling terrain and long-range views of the surrounding mountains makes this course extremely enjoyable and picturesque.  The Alpenresort Schwarz***** is a golf hotel that combines quality surroundings and excellent amenities to provide the golfing guest with a fantastic experience. Cyclists will love the 544-kilometer long Inn Cycleway, which meanders through some of Tirol's most beautiful landscapes and scenic spots. As you can see: a vacation in Telfs offers a variety of options to suit any visitor!