Great golf, food & views: Mieming
Everything about playing golf in Mieming is pleasurable: from tee off to the final hole to the dining experience. We present the best places to relax post golf.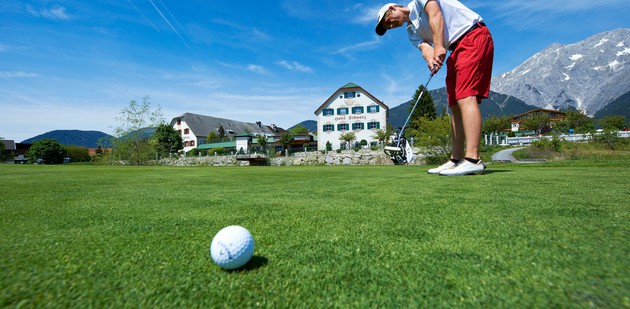 Beautiful rolling terrain and long-range views of the surrounding mountains make the Golfpark Mieminger Plateau extremely enjoyable for golfers of different skill levels. And as every golfer knows: no golf course is complete without golf course restaurants. Restaurant Greenvieh offers excellent food after an exciting day on the course. The spacious terrace of Stöttlalm is the perfect place to enjoy the afternoon sun with a well deserved pint or glass of wine after a round of golf. Unfortunately Greenvieh is closed at the moment due to a fire, but the popular restaurant will reopen before the end of April 2016.
With several magnifi cent golf courses at its doorstep, the Alpenresort Schwarz***** is a  luxury base for golfers. The hotel's extensive spa, which is open to hotel guests and day spa visitors, is an absolute highlight and a wonderful place to relax your body and rejuvenate your soul.